Collective bargaining round 2022: Pilot agreement in Baden-Wurttemberg concluded
November 18th 2022
After about twelve hours of intensive negotiations, Südwestmetall and IG Metall reached a pilot agreement for the collective bargaining area of Baden -Wurttemberg today in Ludwigsburg.
"A painful compromise on many points, which is only acceptable to us because we have been able to create relief options for businesses in need and planning certainty with a long runtime," Dr Harald Marquardt, negotiator on employer side, emphasized. The collective agreement contains all the elements of a real compromise. "In view of the extremely difficult economic situation and the enormous uncertainties, this compromise is certainly painful in many aspects and absolutely at the limit of what we consider to be just acceptable for the majority of our members.", he added. The agreement has a long runtime until 30th September 2024.
The 2022 Pilot Agreement contains the following core elements:
Wage increase: Increase in two steps by 5.2 percent from June 2023 and by 3.3 percent from May 2024
One-off Payment: 3,000 EUR tax and duty-free inflation compensation premium, divided into two tranches of 1,500 EUR each, payment until March 2023 and March 2024, postponement possible
Flexibility: Relief options for companies in difficult economic situations
Energy emergency: Process description of how quickly and flexibly to react to an energy emergency
Runtime: 24 months (01.10.2022 – 30.09.2024).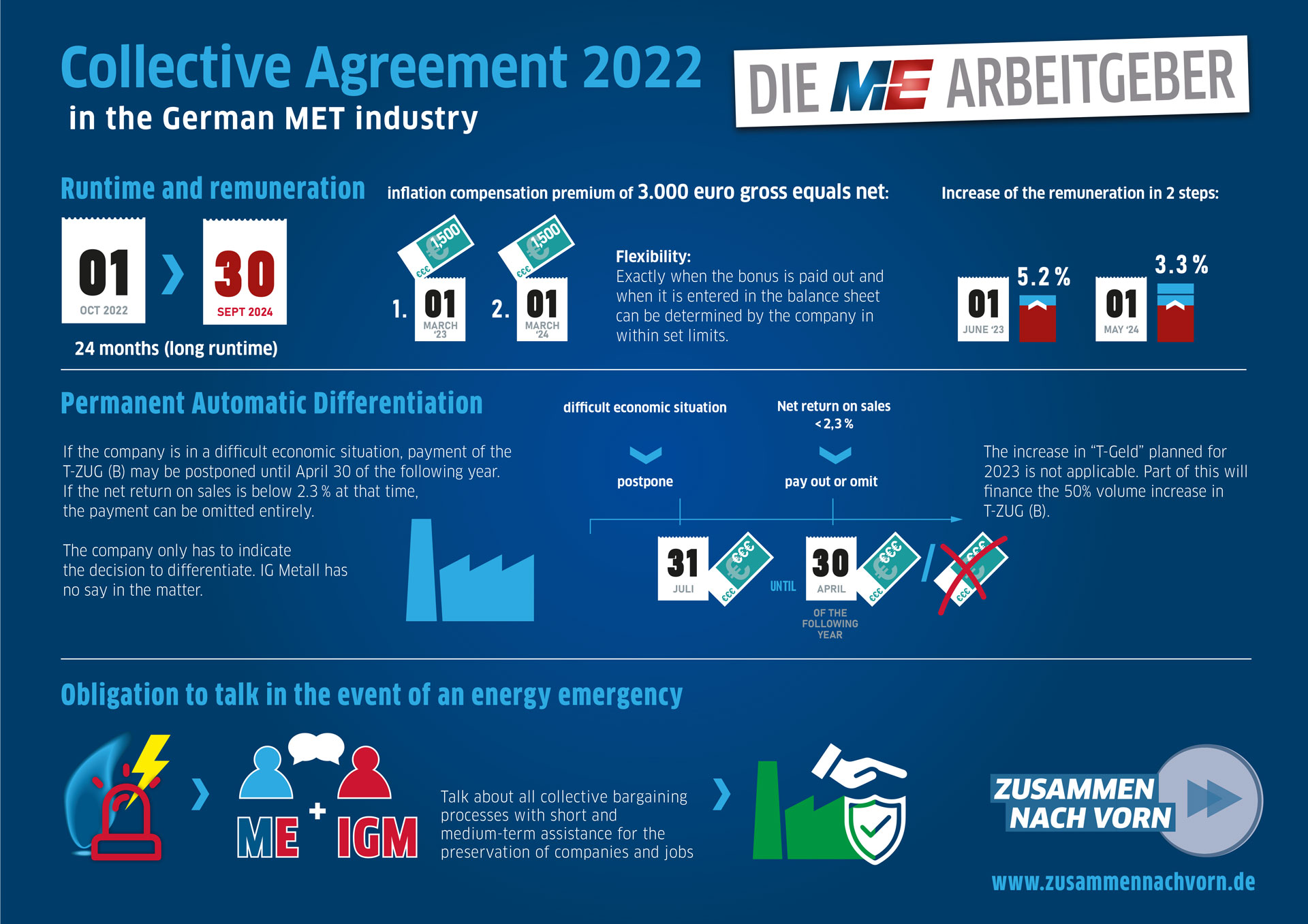 Gesamtmetall President Dr Stefan Wolf welcomed the agreement and said, "This collective agreement was a hard piece of work. In an environment of recession, price pressure on workers and companies alike, corona and war, with this agreement we are creating long-term predictability for all parties and sending a clear signal of confidence."
Dr Wolf emphasised that the size of this deal was a great burden for competitiveness and employment. However, an industrial action would have caused even greater damage and would have been a fatal signal for the location and the tariff autonomy.
He continued: "We have always emphasised that workers will participate when there is growth. So this deal is an advance on the growth we hope for again from 2024. And we have also agreed on a course of action in case an energy emergency dashes the hopes." We hope that the pilot result found in Baden-Wurttemberg could serve as pilot agreement for our other bargaining regions of the German Metal and Electrical Engineering Industries.